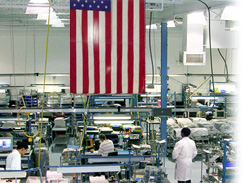 Headquartered in Cleveland, Ohio, Codonics develops, designs, sells and supports leading-edge medical imaging and information management devices used in diagnostic imaging. Recognizing a worldwide need for improved medication safety practices, Codonics innovated Safe Label System(SLS) and entered the realm of patient safety-oriented systems. With the global launch of SLS, Codonics reach in the hospital expanded to the operating room, ICU, PICU, patient floors, nurse medication prep stations and pharmacy, or anywhere medication preparation demands increased safety.
Today we are a global leader in image documentation solutions and provide healthcare with some of the most advanced medical imaging and patient safety products in the world. Codonics is represented in over 110 countries with more than 30,000 product installations in renowned, cutting-edge medical facilities throughout the world.
Our collaborative relationship with the SIMS Lab at Massachusetts General Hospital, part of Partners HealthCare, led us to focus on medical technologies that help prevent accidental patient harm by removing the element of human error. Even in countries where specific standards or governmental oversight is yet to exist, our focus on safety has driven us to develop and implement a best practice approach to documented problems in user-friendly systems to provide improved safety solutions. By communicating and working with Ministry of Health (MOH) agencies all over the world, Codonics is augmenting awareness of problems, introducing best practices and applicable standards, and providing solutions to "unrecognized" needs. Our continued focus and commitment to the ongoing Patient Safety Movement Foundation's initiatives for zero preventable patient deaths caused by medication errors by the year 2020 includes working with organizations like Anesthesia Patient Safety Foundation (APSF), and aligning with the objectives set forth by the U.S. Department of Health & Human Services.
Codonics is rapidly becoming a standard of care throughout world-renowned hospitals and clinics globally. We are working with worldwide leading patient safety-oriented manufacturers to ensure our solutions are part of their solutions to ensure safety during the medication preparation and administration process. From smart pumps to smart carts, AIMS (anesthesia information management systems) and EHR (electronic health record) elements, Codonics solutions are becoming central to improving safety, quality and cost reduction.
Codonics has been highly recognized for product innovation and exporting excellence with these prestigious honors and awards: Medical Design Excellence Award (MDEA) for product innovation, Frost & Sullivan for Medication Management Customer Value Leadership Best Practices Award, Healthcare Heroes Award for Advancements in Healthcare, NorTech Innovation Award for Improving Safety and Accuracy of Medication Management, Stevie's International Business Award for Best New Product of the Year Health & Pharmaceuticals, IBN Global Business Leadership Award, Commercial News USA Award for Export Excellence, the Governor's E-Award, and by the White House with the President's E-Award, the highest honor a company can receive for exporting excellence.
Codonics has always looked for what has yet to come, believing that consistent dedication to advancing healthcare could transcend other ordinary solutions and conventional boundaries. Our customers can depend on Codonics brand to operate reliably day in and day out, recording thousands of CDs and DVDs, printing hundreds of films every hour, storing and retrieving large data sets in a click, importing and managing outside patient discs with ease, and improving patient care by increasing medication safety and compliancy anywhere in the hospital. Our commitment to provide innovative products and market-leading solutions is changing the face of healthcare.